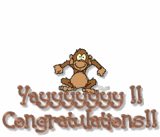 Cool Image Comments
True Random Number Generator
Min: 1
Max: 23
Result: 20
Powered by
RANDOM.ORG
Who said:
March 19, 2010 6:55 AM
Linda Kish
Donut Sundays with my son.lkish77123 at gmail dot com
I have emailed the winner and she has 48 hrs to email me or I will pick another winner!
Thank you to all who entered. Check back soon as I have another giveaway to post.